Monrovia Roberts International Airport
Roberts International Airport (IATA: ROB, ICAO: GLRB), informally also known as Robertsfield, is the international airport of Liberia. Located near the town of Harbel, the single runway airport is about 35 miles (56 km) outside of the nation's capital of Monrovia. The facility with its 11,000 feet (3,400 m) long runway was an emergency landing site for the United States' Space Shuttle program and is the principal airport in the country and one of only two with paved runways in the nation. The airport is named in honor of Joseph Jenkins Roberts, the first President of Liberia.

The airport was originally built by the United States government as an Air Force base as part of these activities. The runway was built long enough for B-47 Stratojet bombers to land for refueling, giving Liberia what was for many years the longest runway in Africa. President Franklin D. Roosevelt of the United States had lunch with President Edwin J. Barclay at Robertsfield visit to Liberia in January 1943. From 1943 to the end of WW2 in 1945, Roberts Field Airport, as it was then known, served as an alternative base for a contingent of 26 Squadron SAAF which flew Vickers Wellington Bombers on anti submarine (U-Boat) and convoy escort patrols over the Atlantic.
The story of Robertsfield is consistently intertwined with the history of Pan American World Airways. In fact, from the end of World War II until 1985, the airport was administered and operated by Pan American under contract with the Republic of Liberia's Ministry of Transport. Monrovia was consistently a key link in Pan American's African network, usually an intermediate stop between Accra and Dakar, from which service continued onward to Europe and New York. In the late 1970s and into the early 1980s, the airport became Pan Am's principal African hub, with a non-stop service from New York JFK connecting at Robertsfield to such destinations as Dakar, Accra, Abidjan, Lagos, and Conakry, among others, and continuing on to Nairobi and even at times Johannesburg, so that for many years virtually every Pan Am passenger to Africa passed through Robertsfield. Pan Am's presence diminished during the 1980s, as Pan Am's African network was slowly pulled down. Pan Am ended its management of the airport in 1985 but as late as 1986 the airport was still a stop on the JFK-Dakar-Monrovia-Lagos-Nairobi route. At one point in the past, Roberts Airport was listed as an alternative landing site for NASA's Space Shuttle.
Currently, the terminal facilities consist of two passenger buildings, one for departures by most commercial carriers and all arrivals, and a second, Terminal B, opened in March 2012 exclusively for departures by Air France and Delta Air Lines.

Other airside buildings are primarily used by the United Nations, with a VIP facility adjacent to the original, unused terminal.

<<Photo : the rehabilitation project
| | |
| --- | --- |
| | At the end of 2016, the Exim Bank of China and the government of Liberia have signed a US$ 50 millions loan contract to rehabilitate the runway and expand the terminal building of the Roberts International Airport (ROB) in Monrovia. |
| | |
| --- | --- |
| | In order to facilitate your trip, we advise passengers to take all necessary measures to be in compliance with sanitary requirements, customs and administrative (passport, visa, etc..). |
Stay informed of delays and cancellations keeping this page in your favorites.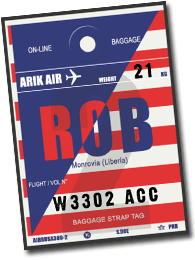 Log in

Contact us

About

2013-2019 Monrovia-Airport.com.